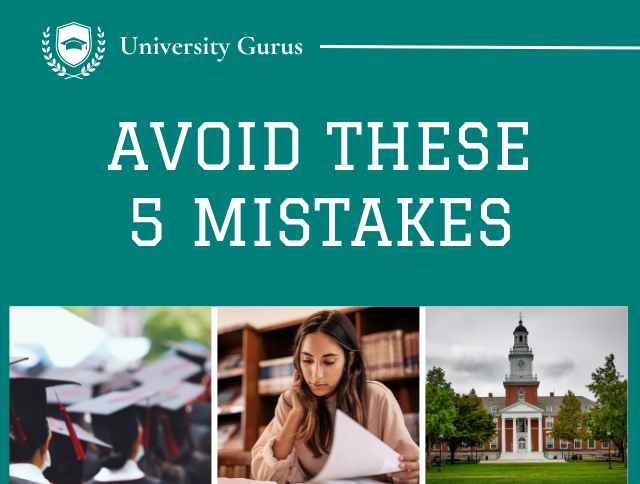 Hey there future college star! If you're embarking on the college application journey, you know how overwhelming it can get. One misstep in your essay, and it's a one-way ticket to the "maybe" pile.
As someone who's already reviewed hundreds of your drafts this season, I want to help you avoid that fate. So, here are the top 5 mistakes I see students make in their college essays, along with my expert advice on how to fix them.
This article extends on the newsletter I sent this week. If you're not subscribed yet, you may enjoy the weekly newsletter I send with tips like these.
Mistake #1: Starting Off Weak
What it looks like:
Your essay kicks off with overused quotes or a generic "Ever since I was a child…" line, losing the reader from the get-go.
How to Fix it:
Begin with a strong, authentic hook that encapsulates who you are. Remember, admissions officers read thousands of essays – make yours stand out right from the start.
---
Mistake #2: Monotonous Writing
What it looks like:
Your essay sounds like a robot wrote it—same sentence structure, same tone, all the way through.
How to Fix it:
Vary your sentence structures. Mix short, punchy sentences with longer, more descriptive ones. It'll keep the reader engaged and show off your writing chops.
---
Mistake #3: Being Too Abstract
What it looks like:
You're waxing poetic about your love for science, but where's the evidence?
How to Fix it:
Illustrate your points using vivid anecdotes, experiences, and metaphors. Instead of saying, "I'm passionate about biology," paint the scene of that electrifying moment when the dance of cells under a microscope captivated you.
---
Mistake #4: Clinging to Irrelevant Details
What it looks like:
Your essay has this beautiful metaphor about a tree, but what does it have to do with the prompt?
How to Fix it:
It sounds harsh, but sometimes we must let go of beautiful sentences and anecdotes if they don't serve the larger narrative. Be ruthless in your editing.
---
Mistake #5: Writing in a Vacuum
What it looks like:
You lock yourself in a room, crank out your essay, and submit it, never once getting a second opinion.
How to Fix it:
After you've gone through a few drafts, pass it to a trusted teacher, friend, or family member. Fresh eyes can provide insights you might have missed.
---
Next Steps
Remember, revising isn't just about polishing—it's about digging deep, understanding yourself better, and articulating your unique story in a way that resonates.
Pro-tip: Let your essay breathe. Revisit after a day or two. Fresh perspectives often highlight overlooked gems or inconsistencies!
Stuck? Or just need a second opinion? Schedule a free consultation and essay review here. I'm on standby to assist!
Keep writing, keep revising, and most importantly, write a story you believe in!
Shine on,
Kate